Our talented team of designers combines creativity, research, and user-centric design principles to craft intuitive and engaging user interfaces. We dive deep into understanding user behavior, preferences, and needs to create seamless interactions and meaningful experiences. With a focus on usability, accessibility, and aesthetics, we ensure that every touchpoint of the user journey is optimized for maximum satisfaction.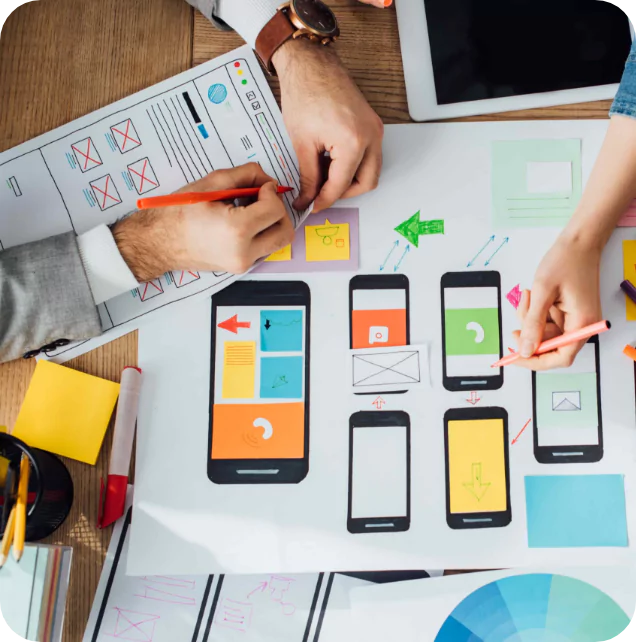 The Coverage of our User Experience
Design Solutions

User Research
The first step in user experience design is conducting thorough research to understand the target audience's needs, preferences, behaviors, and goals.

Visual Design
Creating an appealing and cohesive visual identity that includes selecting appropriate colors, typography, imagery, and other visual elements that enhance the user experience.

Information Architecture
Creating a solid information architecture involves organizing and structuring the content in a way that is intuitive and easy to navigate.

Usability Testing
Usability testing involves gathering feedback from real users and making necessary refinements to improve the overall user experience.

Interaction Design
Designing the interactive elements of the website to ensure that the interactions are intuitive, seamless, and aligned with user expectations.

Iterative Improvement
Continuously monitoring user behavior, gathering feedback, & making iterative improvements to enhance the website's usability, accessibility, & overall user experience.
Our Services
Across Industries
Check Out Our Vast Range Of Industries And How We Have Served Them With Our Outstanding Services.
Work with future-proof technologies
To ensure maximum satisfaction for our clients, we utilize tools to help us form advanced solutions.

Front-end
ReactJS, AngularJS, HTML
Bootstrap, CSS

CMS
Magento, Shopify, Drupal,
WordPress

Back-end
NodeJS, Python, Firebase, Java, .Net, PHP

Database
Dynamo, Mongo DB, MySQL,
Postgress

Mobile
Android, iOS, React Native,
Flutter, Kotlin, Swift

Infra & DevOps
Amazon Web Services,
Google Cloud Platform.
We specialize in creating exceptional digital experiences that delight users and drive business success. Partner with us to elevate your digital products and services with compelling user experiences that leave a lasting impact.
Understanding the target audience is crucial in user experience design. This phase involves conducting research to gather insights into user behaviors, needs, and motivations. Techniques such as user interviews, surveys, and analytics analysis help shape the design process.